Is Sue Myrick Retiring?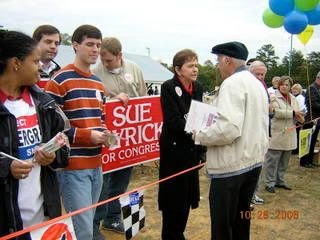 A friend nudged me in the direction of a Charlotte Observer rumor mill piece printed yesterday that tossed the idea in the air that Pat McCrory might run for Sue Myrick's seat if she retires. Funny, we were having
that discussion here
way back at the end of November.
State Sen. Robert Pittenger, according to the Observer, has already made it known that he would run for Myrick's seat if she vacates it. With all this rumor mongering by the Observer it does lead me to believe something is up with Sue. Maybe she isn't well enough to continue serving, or maybe she does plan to run for Dole's seat.
I've also heard through the grapevine that McCrory might consider a run for Lt. Governor, but I'm not sure I see that. McCrory's not a bad guy for a Republican, but my fear is that he would get to Washington and step in line with all the other wingers. I know Pittenger would.
There's no suspense over who will be throwing his hat in the ring for a possible run against the Republican nominee.
Bill Glass
has announced he will run again in 2008. I haven't heard any rumors as to whether there are any other Democrats wanting a chance at this seat.
It's probably going to be a while before we find out.
Labels: Pat McCrory, Robert Pittenger, rumors, Sue Myrick